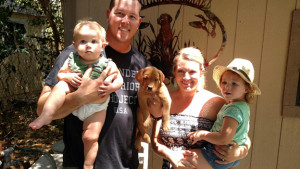 Copper has been the perfect addition to our family. Even at just a few months old he is intelligent, obedient, loving, and of course beautiful. It is extremely apparent how much pride Bill takes in his dogs and we are so pleased with our puppy from him! We definitely plan on working with him for any more dogs we'd like to add to our family in the future.
Hi Southwind, Gunner is doing fantastic. He is adjusting extremely well to his new home. Went to the Vet to start his puppy plan. He points!! he has been pointing on sparrows since we brought him home. Today we worked out with a wing clipped pigeon. He was very aggressive and stayed with it till he got it. Thanks again for giving us this great dog.
Hi Bill,
Honey at 5.5 months. We are the Burlingame family that picked up the pup at 10:30 one night. I told you that I wanted to train her to be my son's diabetic alert dog and we have had tremendous success. She has alerted us at least 4 times twice in the middle of the night when all were asleep including Evan whom she could not wake. I could not be any more pleased. I'm sure in your breeding you may have gotten a little guardian angel in her. She alerted us last night catching Evan dangerous low well before we figured out what was happening. Normal levels and 80-120. Evan was crashing and was at 44. She caught it and was indeterminably insistent in alerting us where was Evan was too out to catch her alert himself.